1 year - 52 weeks - 56 articles 🔥
Introduction
🗓️ A year ago, on September 11th, 2022, I started this blog to talk about keeping our cloud environments safe. Today, I want to share what I've learned about my journey with you.
Looking back, it's amazing how a year of growth can unfold. Before that, I spent a whole year contemplating before finally taking the leap. The world can seem pretty big when your blog becomes accessible to everyone, but I assure you, most of those worries are just overthinking. 💭 In the first days or even weeks, you will hardly have any visitors besides yourself checking if your articles are accessible on Google. After a year of writing, I have published an average of one article per week, totaling 56 articles.
In this article, we'll delve into the essential steps of setting up a successful blog, specifically centered around cloud security. We'll tackle the initial hurdles head-on and discover ways to overcome them. In today's digital world, where cloud computing is the backbone and security is crucial, this niche offers a fantastic chance to provide advice, share tips, and keep up with industry trends 🚀
Building the Foundation: Setting Up Your Tech Blog for Success
First, we need to setup our blog and all technical dependencies. So let's dive into the technical setup first. 💻
Select a domain name
Opt for a domain name that reflects the niche and resonates with your target audience. I am not the most creative person and was thinking a lot about the name. Instead of losing too much time, I have just used my whole name.
Choose a reliable web hosting service
Select a hosting provider that ensures fast loading times and high uptime to provide a seamless user experience. You can go with any big cloud services provider like AWS, Azure, or GCP. I went with a smaller local hosting provider which is based in Germany.
To enhance the loading time even more, utilize a CDN like Cloudflare. They have a very generous free tier.
Install a content management system (CMS)
Use popular CMS platforms like Ghost CMS to easily manage and publish your blog content. I decided to use Ghost because it is lightweight and easy to use. There are plenty of tutorials on how to set up Ghost, it took me a few hours to get it up and running. 🚀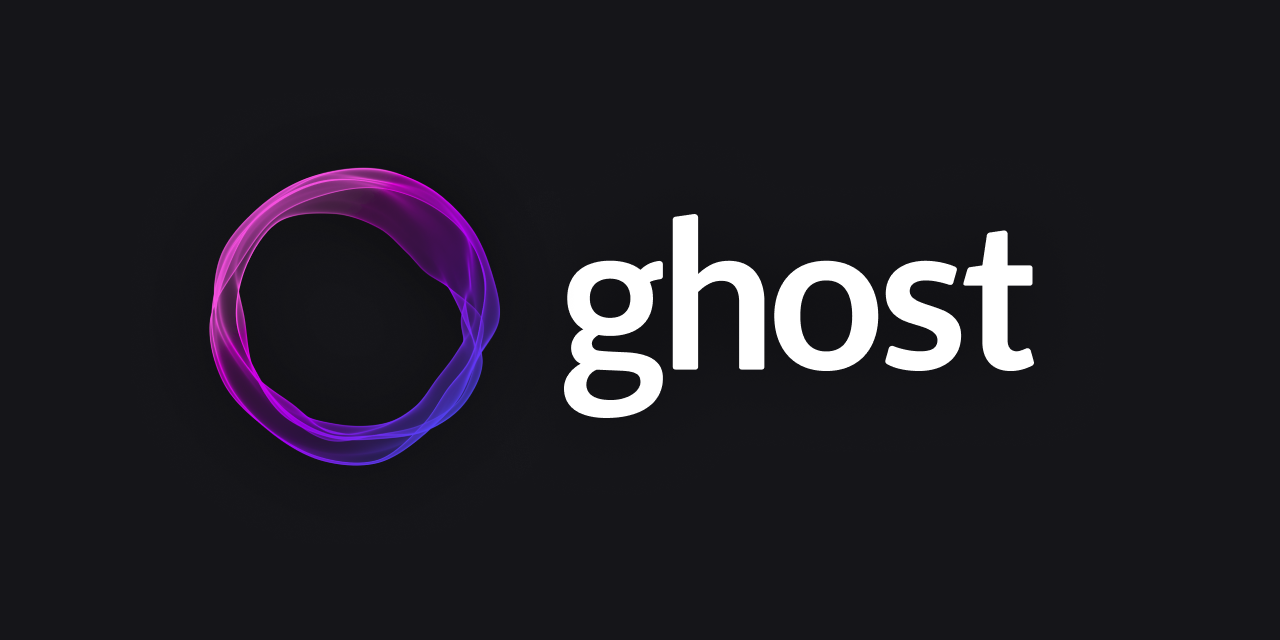 Customize your blog's design 🎨
Create an appealing and professional design that aligns with your blog's branding. There are many websites where you can buy premade designs. I bought my design here:
The design will also enhance your SEO. As I wanted to focus on writing articles, I used a design where SEO is already optimized even if it is a little bit more pricy.
Install an Analytics Solution for Insightful Growth 🔍
When I integrated Plausible, it was an important moment in my blogging journey. This analytics tool not only fine-tuned my content strategy but also enhanced user experiences. It empowered me to make informed decisions, steering my blog towards sustained growth.
While I initially implemented it a month into my journey, its long-term benefits in tracking article sharing and reader origins are immeasurable. If you are sharing articles make sure, you are using UTM parameters in your URL to keep track of the incoming traffic.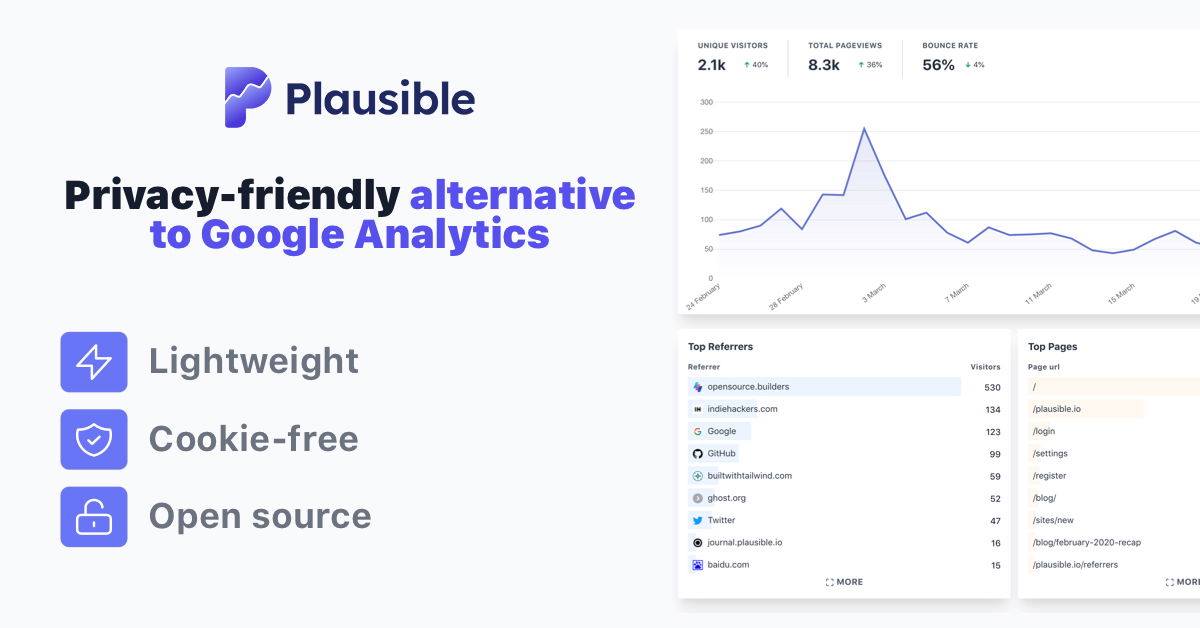 Activate Search Insights with Google and Bing 📊
The significance of utilizing tools like Google Search Console and Bing Webmaster Tools cannot be overstated. These platforms offer a direct line of communication between your blog and the search engines that index it.
Submitting your blog to these tools gives you essential data about your content's search appearance, traffic-driving keywords, and click rates. This info helps improve your blog's visibility, content strategy, and fix technical issues.
Insights from Google Search Console and Bing Webmaster Tools let you customize your content for your audience and boost your blog's search performance.
Unveiling Broken Backlinks with Ahrefs 🔗
Ahrefs, a comprehensive SEO tool, provides a powerful feature for identifying broken backlinks - a critical aspect of maintaining a healthy and authoritative online presence. One of Ahrefs' standout benefits is its ability to detect and fix broken backlinks. A critical factor for ensuring seamless user experiences. By identifying and rectifying these issues, you not only enhance navigation but also rekindle lost connections and potential traffic.
I only identified that I had a few broken backlinks after I used the tool.
Creating Compelling Content that Resonates
Define your content strategy
Identify the key topics, subtopics, and formats that resonate with your target audience and yourself. I started by writing articles about things I was interested in. While writing those articles, I stumbled across problems. Those problems transitioned into additional articles.
Research and develop original content
Conduct thorough research on your blog's topic trends, best practices, and emerging technologies. Create unique, informative, and actionable content.
Optimize your content for search engines
Incorporate relevant keywords naturally into your content, meta tags, and headings to improve visibility.
Use compelling visuals
Include relevant images, infographics, and videos to enhance the visual appeal and engagement of your blog posts. Try to take high-quality screenshots. Nothing is more frustrating for a visitor if they need to zoom in on screenshots and they keep being blurry.
Building Your Online Presence: Leveraging LinkedIn and Twitter/X for Success
Among the multitude of platforms available, two stand out as particularly crucial for networking and showcasing your expertise: LinkedIn and Twitter.
LinkedIn: Building a Professional Network
Sharing your well-researched and insightful articles on LinkedIn positions you as a thought leader. Your connections, which can include colleagues, industry experts, and potential readers, will perceive you as someone actively contributing to the discourse surrounding your blog.
The platform's features, such as comments and shares, encourage meaningful discussions around your articles. Engaging with your audience fosters a sense of community and allows you to address questions or provide further insights, thereby strengthening your online presence.
By sharing your articles on LinkedIn, you open doors to connect with industry peers, potential collaborators, and even future employers or clients. These connections can lead to collaborations, guest blogging opportunities, or invitations to speak at events, all of which contribute to your blog's growth. Try to use the scheduling function of LinkedIn. I prewrite my content weekly or monthly, so I only need to spend time commenting and engaging.
Twitter/X: Real-Time Engagement
The dynamic nature of the tech industry means that trends, news, and vulnerabilities can change rapidly. Twitter's quick-fire updates allow you to share real-time insights, reactions to current events, and timely analysis – positioning you as a reliable source for up-to-the-minute information.
Twitter provides a unique opportunity to engage directly with influential figures. By tagging them in your tweets, you can potentially capture their attention. This could initiate conversations that lead to collaborations or amplification of your content.
Incorporating LinkedIn and Twitter into your blogging strategy is about more than just sharing links – it's about building a community, establishing authority, and participating in real-time discussions. By strategically using these platforms, you amplify your blog's reach, foster engagement, and create a dynamic online presence that contributes to the overall success of your endeavor.
Harnessing the Power of Industry Recognition
Becoming part of prestigious programs like AWS Community Builder or GCP Champion Innovators can significantly elevate the trajectory of your blog. These programs offer a seal of approval from industry giants like Amazon and Google, signaling to your audience that you're a recognized authority in the field. This recognition not only lends credibility to your content but also opens doors to exclusive networking opportunities within the tech community.
As an AWS Community Builder or GCP Champion Innovator, you're granted access to a global network of fellow professionals, giving you the chance to collaborate, learn, and share insights with some of the brightest minds in the landscape. This exposure can amplify your blog's reach, attract a more engaged audience, and position you as a thought leader. 🚀
Just do it 🔥
If you made it here, you will maybe go off and try to search for other bloggers who shared their experiences. Don't waste too much time, there is no magic formula. Just start and keep posting consistently, If you follow the above outline, you will succeed!
Sharing My Journey: The Numbers Behind My Blog
One of the most valuable aspects of sharing my experience with you is being completely transparent about the growth of this security tech blog. I firmly believe that real numbers speak volumes, and they can inspire and guide aspiring bloggers like yourself.
Blog Analytics with Plausible 🔍
Let's start with a look at the analytics for my blog using Plausible:
Monthly Visitors: Over the past year, I've seen consistent growth in my monthly visitors. We started with just a handful of readers, and today, my blog attracts an average of 2,000 visitors per month. (During the initial three months, visitor numbers were quite scarce. However, maintaining consistency in your efforts will eventually lead to higher search engine rankings and an increase in traffic)
Top Sources: When it comes to the sources of my blog traffic, search engines play a pivotal role. Google leads the pack, sending a whopping 7,300 visitors my way, making it the primary gateway to my content. Bing also contributes significantly with 400 visitors, and DuckDuckGo rounds out the top three with 300 visitors.
Audience Geography: The reach of my blog is truly global. My audience spans 128 countries, which highlights the universal appeal of cloud security insights. The main countries visiting my blog are the USA, Germany, and India.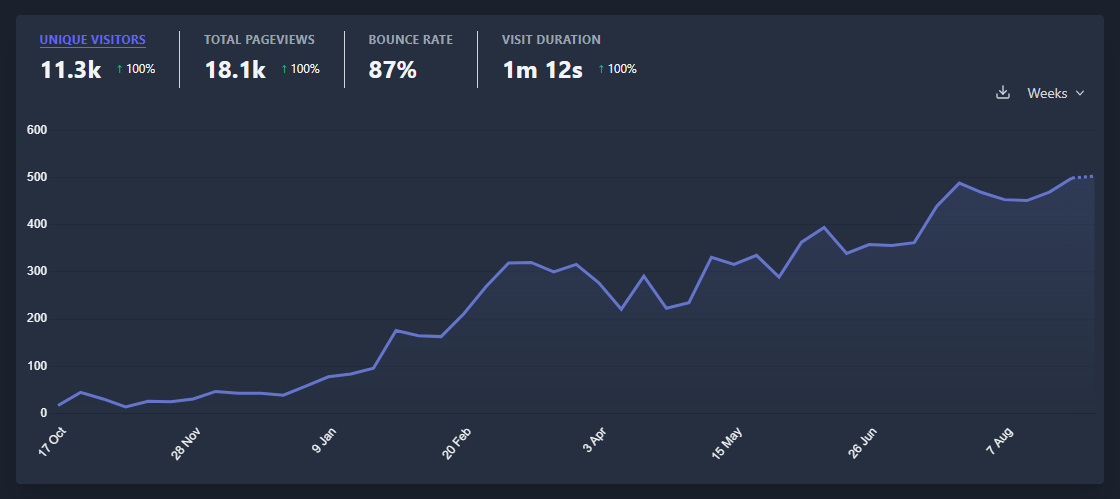 LinkedIn Milestones 📊
LinkedIn has also played a pivotal role in connecting with professionals in the cybersecurity and cloud security fields. Here are some key LinkedIn statistics:
Followers: I am grateful to have about 1,000 followers on my LinkedIn profile. Their engagement, feedback, and discussions have been invaluable in shaping the direction of the content.
Post Reach: My posts have reached a wide audience, with an average weekly reach of about 1,500 people.
Engagement: The cybersecurity community on LinkedIn is thriving, still it is not straightforward to write engaging content. This is one topic I definitely need to work on.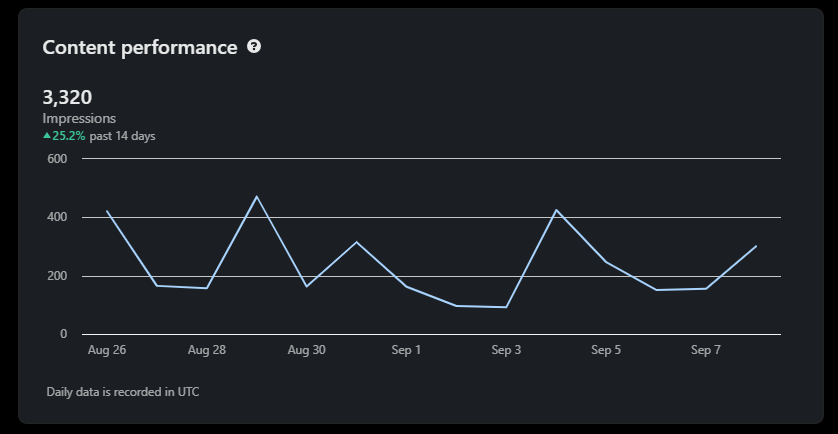 What These Numbers Mean 📈
While these statistics are a source of pride, they also demonstrate that the journey to a successful security tech blog is attainable with dedication and quality content. It's not just about the numbers; it's about the impact, connections, and knowledge sharing that these numbers represent 🌐. Receiving an email in your inbox where someone expresses gratitude for your assistance in resolving one of their pressing issues is immensely more gratifying than having 1,000 readers passively engage with your content. Thank you to whoever reaches out or engages and shares my content 📧.
Need Guidance or Have Questions? Reach Out to Me! 🤝
Embarking on a journey into the world of tech blogging and cloud security can be both exciting and challenging. If you find yourself seeking guidance, have burning questions, or simply want to connect, don't hesitate to reach out. I'm here to offer support, share experiences, and provide insights based on my own journey of growth and learning. Feel free to drop me a message, and let's navigate this path together! 📮